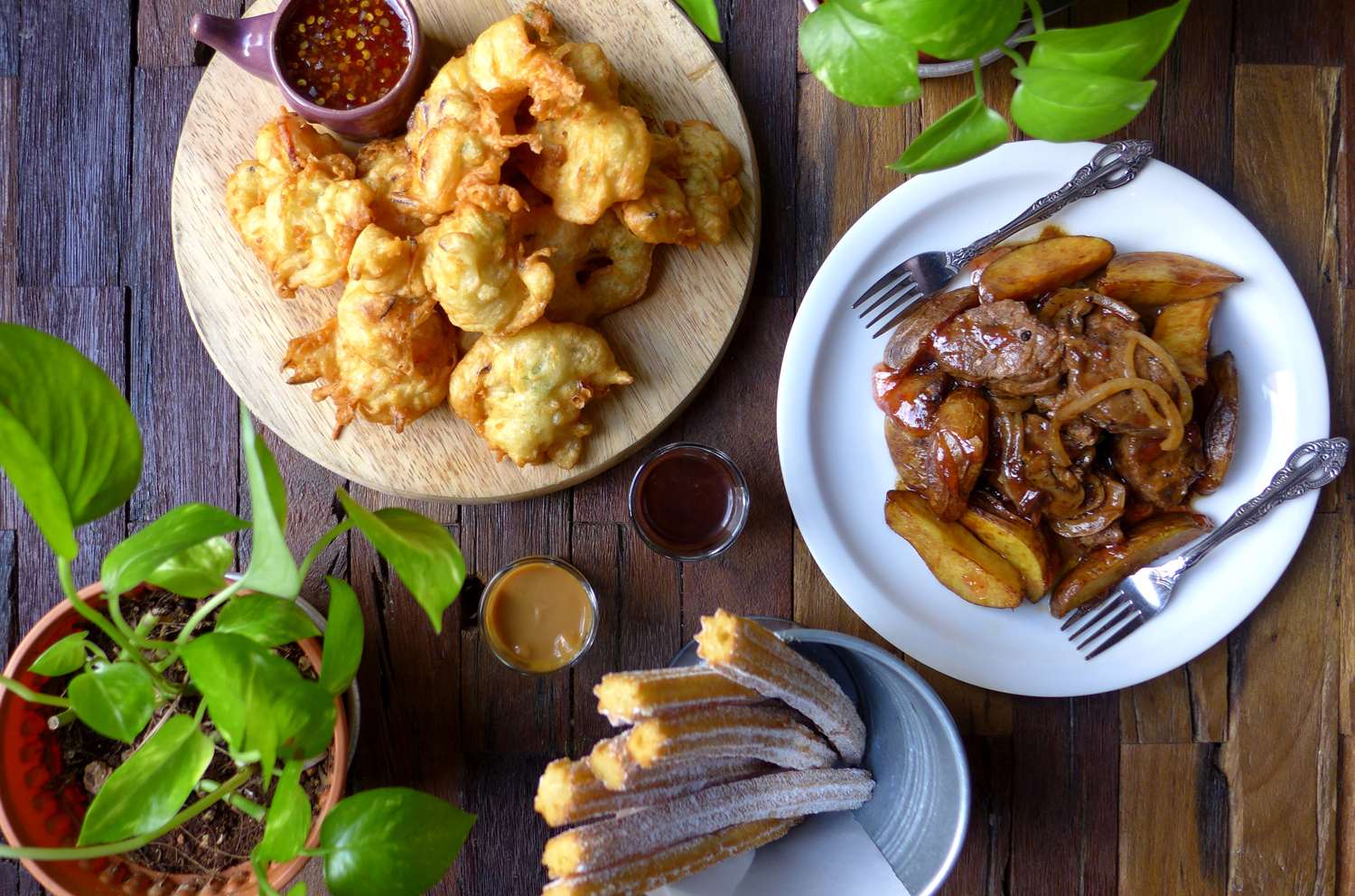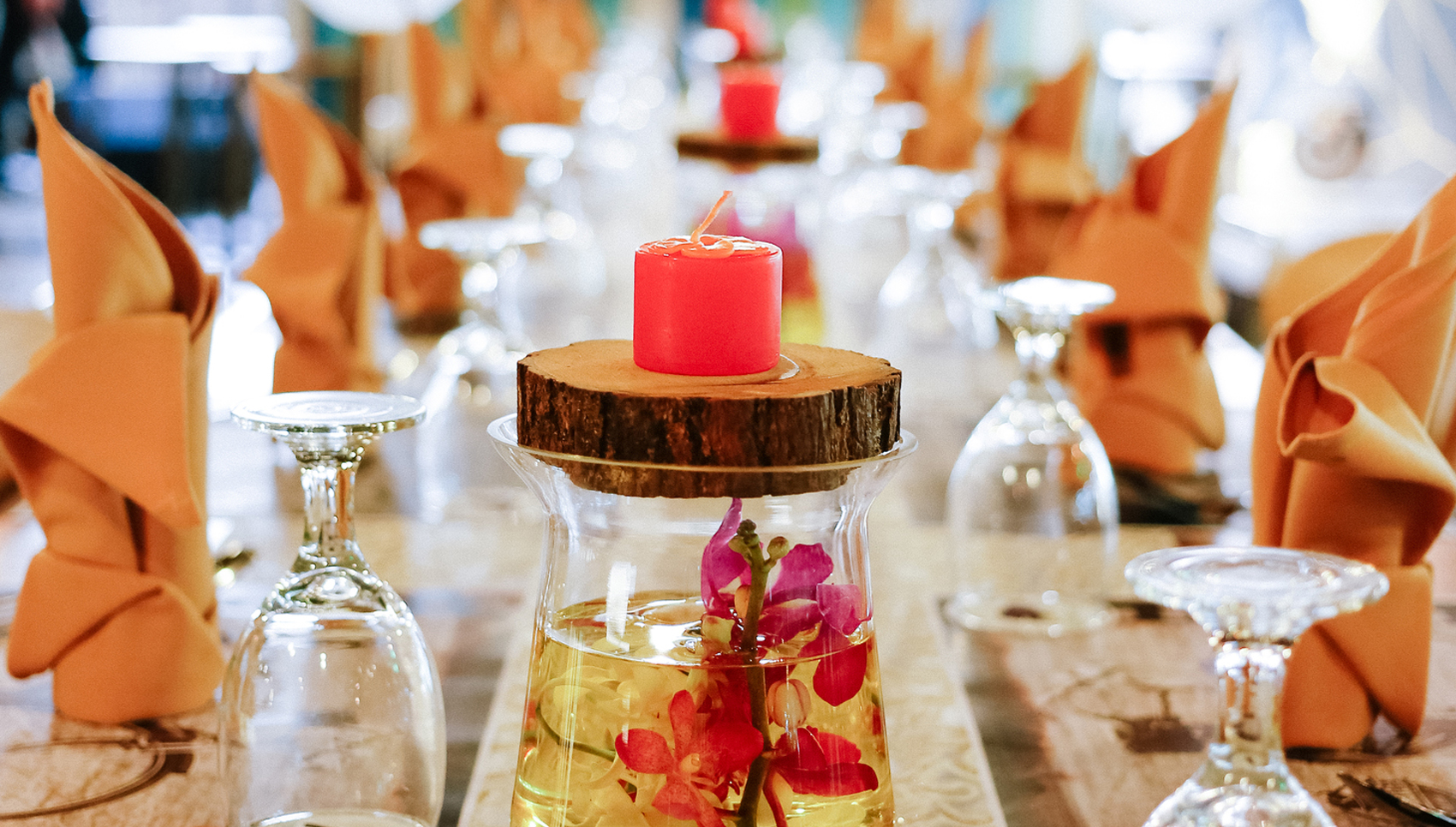 Gajah Tiga is not what you'd expect it to be. Inspired by the cafés of the West, it was founded to bring the experience of consuming good food in an atmosphere that encouraged comfortable and occasionally unhealthy amounts of eating. Basically, it's like having a meal back home, with your mother's pots and pans waiting to be washed in the sink. We're bringing back your favourites in a whole new way.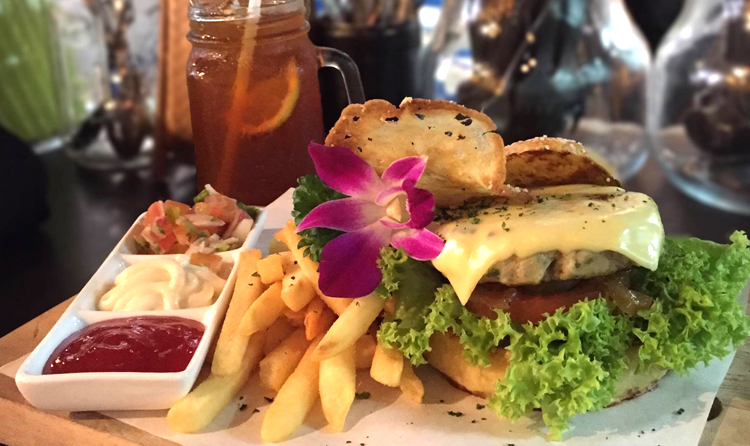 Mini Chicken Burger
with Chunky Chip and Salsa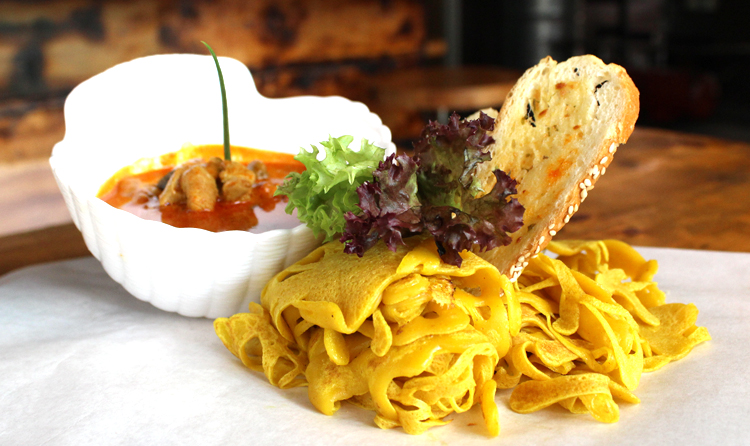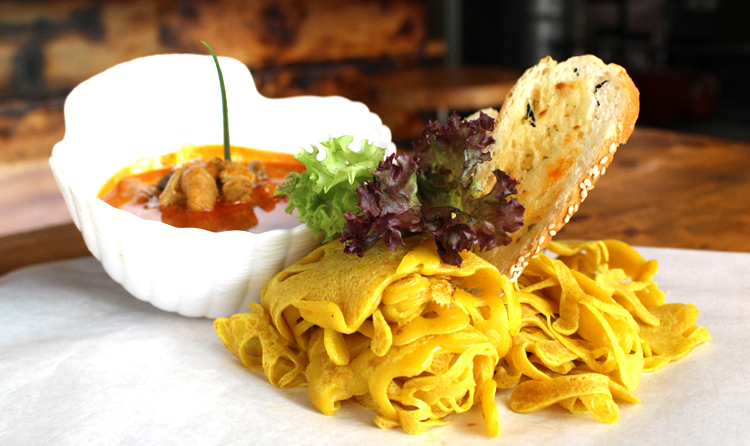 Roti Jala
Gajah Tiga Style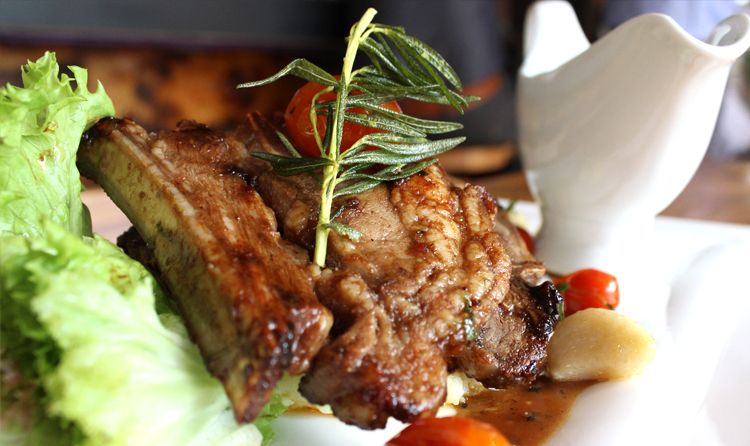 Grilled Lamb Chop
With Butter Rice or Mashed Potato


Operation Hours
Monday to Saturday: 7.00am – 10.00pm
Sunday: 7.00am – 3.00pm

Contact Details
+603 9201 2885
+6012 322 6400 (Call/Whatsapp)
Malaysian "Rojak" Cuisine
Tanah Tumpahnya Darahku favourites, with an international soul
Menu
Roti Jala
Gajah Tiga Style
MYR 8.00
Cucur Udang
with Homemade Sauce
MYR 10.00
Cheezy Onion Ring
Not a Normal Onion Ring
MYR 9.00
Toasted Bread
with Homemade Fruit Jam Butter
MYR 5.00
Teriyaki Chicken
with White Rice and Fried Egg
MYR 15.00
Pan Fried Fish with Grilled Tomato & Mix Grilled Veg
with Lemon Sauce
MYR 18.00
Pan Fried Fish Aglio Olio
Gajah Tiga Style
MYR 15.00
Mini Chicken Burger
with Chunky Chip and Salsa
MYR 14.00
Lamb Chop
On Mashed Potato with Black Pepper
MYR 18.00
Pan Fried Prawn
Served with Tangy Sweet Sauce
MYR 15.00
Grilled Lamb Chop
with Butter Rice & Green Veg.
MYR 18.00
Pan Fried Chicken Breast Slice
with Butter & Mix Vege served with Mint Yogurt Dip
MYR 15.00
Mini Pita Bread
with 3 Type Dip Sauce
MYR 10.00
Snacks
Nachos
with Melted Cheese
MYR 15.00
Karaage Chicken Spicy

MYR 10.00
Truffle Trio Mushroom Ragout on Toast

MYR 9.00
Char Wedges Gajah 3 Style

MYR 6.00
Onion Bhajias

MYR 5.00
Kids Menu
Chicken Pop Corn
with Herb Mayo
MYR 8.00
Fish Finger
with Sweet Mayo
MYR 12.00
Sautee Sausage Cocktail

MYR 14.00
Mashed Potato
with Brown Sauce
MYR 8.00
Gajah Tiga Breakfast
Available daily from 7.00am-10.30am.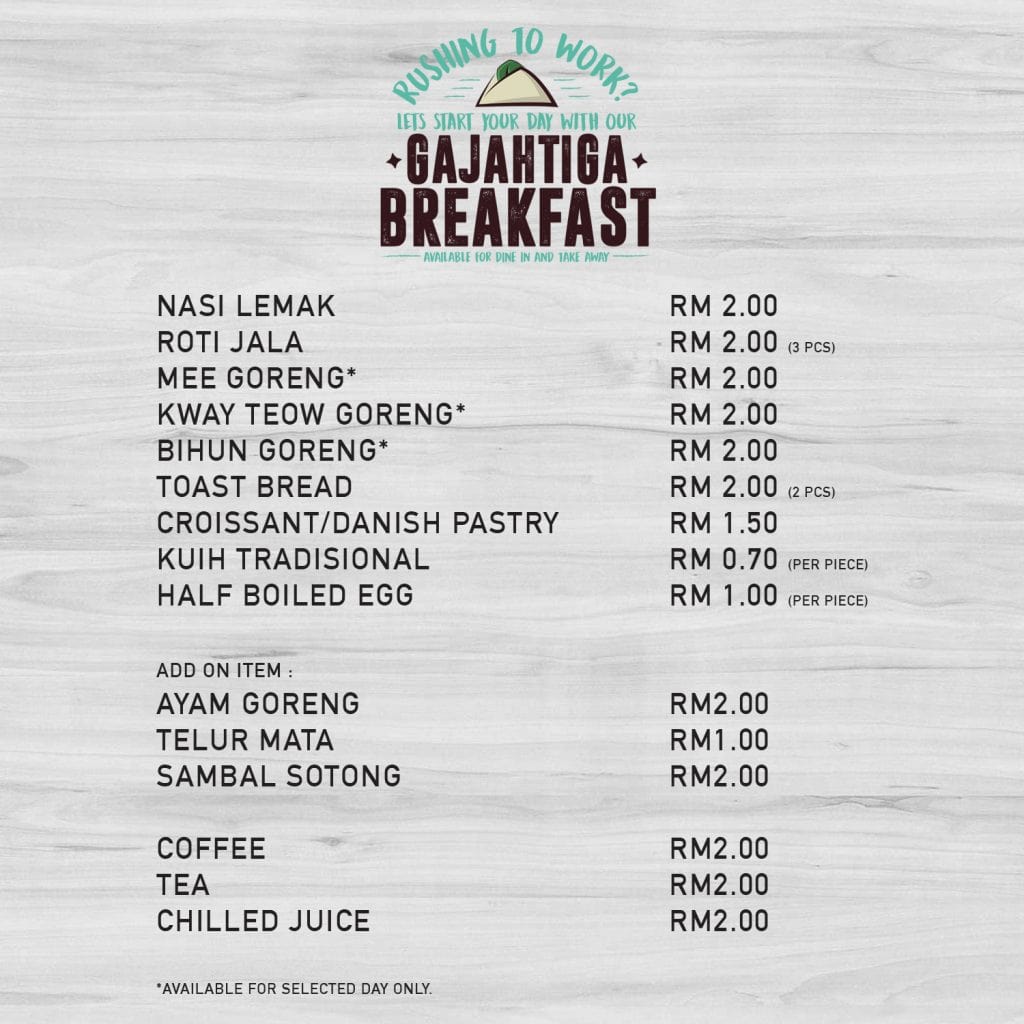 ---
Cozy and Comfortable
A perfect spot for a function, birthday party or family gathering.
Our seasoned team is well-experienced in hosting events of all kinds.
From corporate product launchings to your child's 1st Birthday Party, we will help you host a seamless and beautiful event from start to finish.
You can either choose from our event packages or tailor a custom event to fit your needs.
Contact us at +603 9201 2885 or +6012 322 6400 for more info.