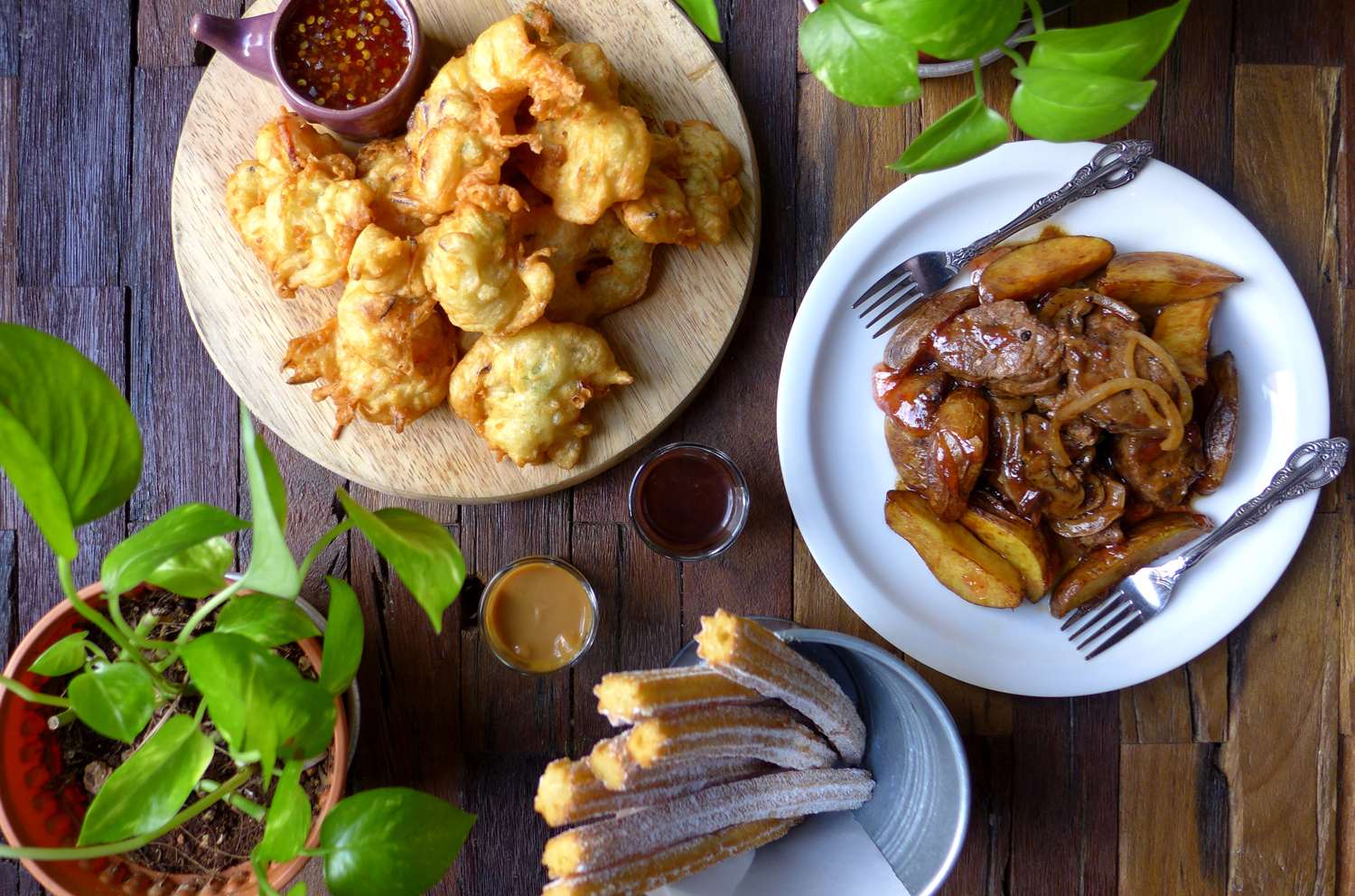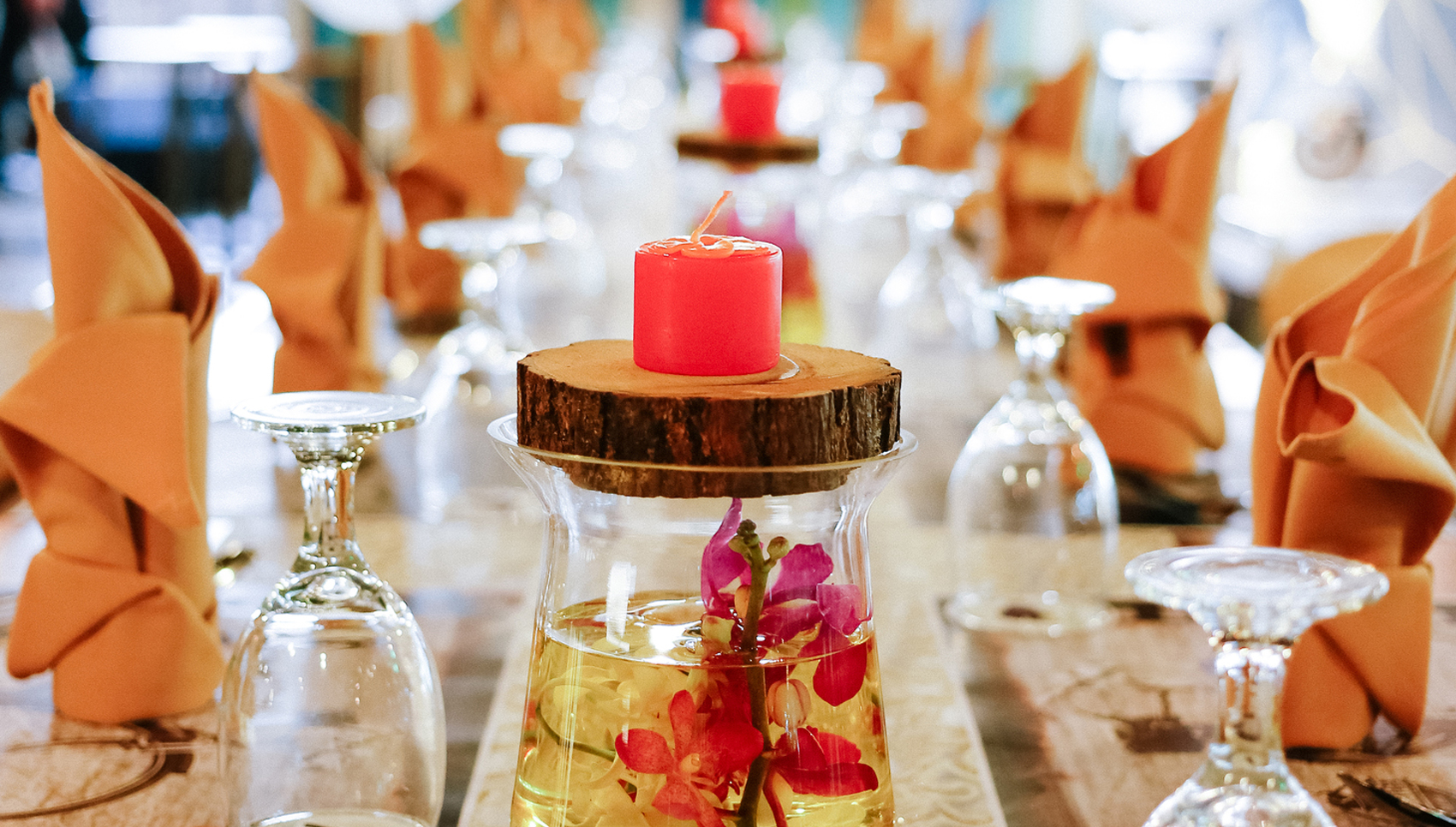 Gajah Tiga is not what you'd expect it to be. Inspired by the cafés of the West, it was founded to bring the experience of consuming good food in an atmosphere that encouraged comfortable and occasionally unhealthy amounts of eating. Basically, it's like having a meal back home, with your mother's pots and pans waiting to be washed in the sink. We're bringing back your favourites in a whole new way.
Mini Chicken Burger
with Chunky Chip and Salsa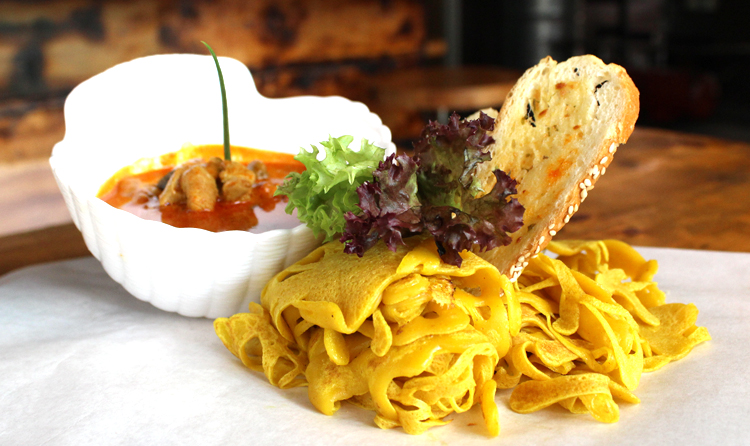 Roti Jala
Gajah Tiga Style
Grilled Lamb Chop
With Butter Rice or Mashed Potato


Operation Hours
Monday to Saturday: 7.00am – 10.00pm
Sunday: 7.00am – 3.00pm

Contact Details
+603 9201 2885
+6012 322 6400 (Call/Whatsapp)
Malaysian "Rojak" Cuisine
Tanah Tumpahnya Darahku favourites, with an international soul
Local Fushion
Chicken Teriyaki
Pan grilled chicken, teriyaki sauce. Comes with nasi panas, telur goreng and vege.
MYR 16.00
Ayam Sado
Stir fried chicken, creamy.Comes with nasi panas, telur goreng and vege.
MYR 12.00
Sotong Ah loy
Deep fried squid with salted egg, creamy. Comes with nasi panas, telur goreng and vege.
MYR 16.00
Black Pepper Beef
Stir fried tenderloin beef with black pepper sauce. Comes with nasi panas, telur goreng and vege.
MYR 18.00
Western
Flying Chicken
Chickens don't fly very far.Chicken patty, chunky chip and salsa. Stay fly!
MYR 15.00
Mix Medley
Pan grilled prawn and lamb. From the land, to the sea!
MYR 18.00
Lamb Chop
Pan grilled lamb, barbeque sauce and fries.
MYR 18.00
Pan Fried Fish
With grilled tomato, Mix grilled vege and lemon sauce
MYR 18.00
Pesta Pasta
Lovely Sado
Creamy pasta plus seafood. Recommended!
MYR 19.00
Olio Fish
Butter fish, pasta and herbs. Less is more!
MYR 15.00
Olio Vegetarian
Vege and pasta. Perfect!
MYR 13.00
Aglio Olio Beef
Beef streaky, herbs and pasta.
MYR 17.00
Bangkok Seafood
Tom yum seafood pasta.
MYR 19.00
Chicken Carbonara
Classic creamy spaghetti, with a Gajah Tiga twist!
MYR 15.00
Seafood Carbonara
Vege and pasta. Perfect!
MYR 18.00
Kunyah-Kunyah
Roti Jala
Comes with devil chicken curry. Classic!
MYR 8.00
Cucur Udang
Our secret recipe. Everyone's favourite.
MYR 10.00
Chicken Pop Corn
Comes with mayonnaise and chilli sauce.
MYR 10.00
Sweet Potato Churros
Cakoi, mat salleh style.
MYR 8.00
G3 Fries
Finger chips made from potato.
MYR 7.00
Dessert
Pisang Goreng Amazing
Crispy with Gajah Tiga style. Ada surprise lagi! (20 mins)
MYR 7.00
PaneCake Gajah Tiga
Tiga tingkat, not your ordinary pancake.
MYR 7.00
Pisang Gulung
Pisang, kulit popia, wrap!
MYR 7.00
Ais Kacang Gajah
Sejuk. Bukan biasa-biasa!
MYR 8.00
Ice Cream
Single scoop, longan and peanuts.
MYR 4.00
Gajah Tiga Breakfast
Available daily from 7.00am-10.30am.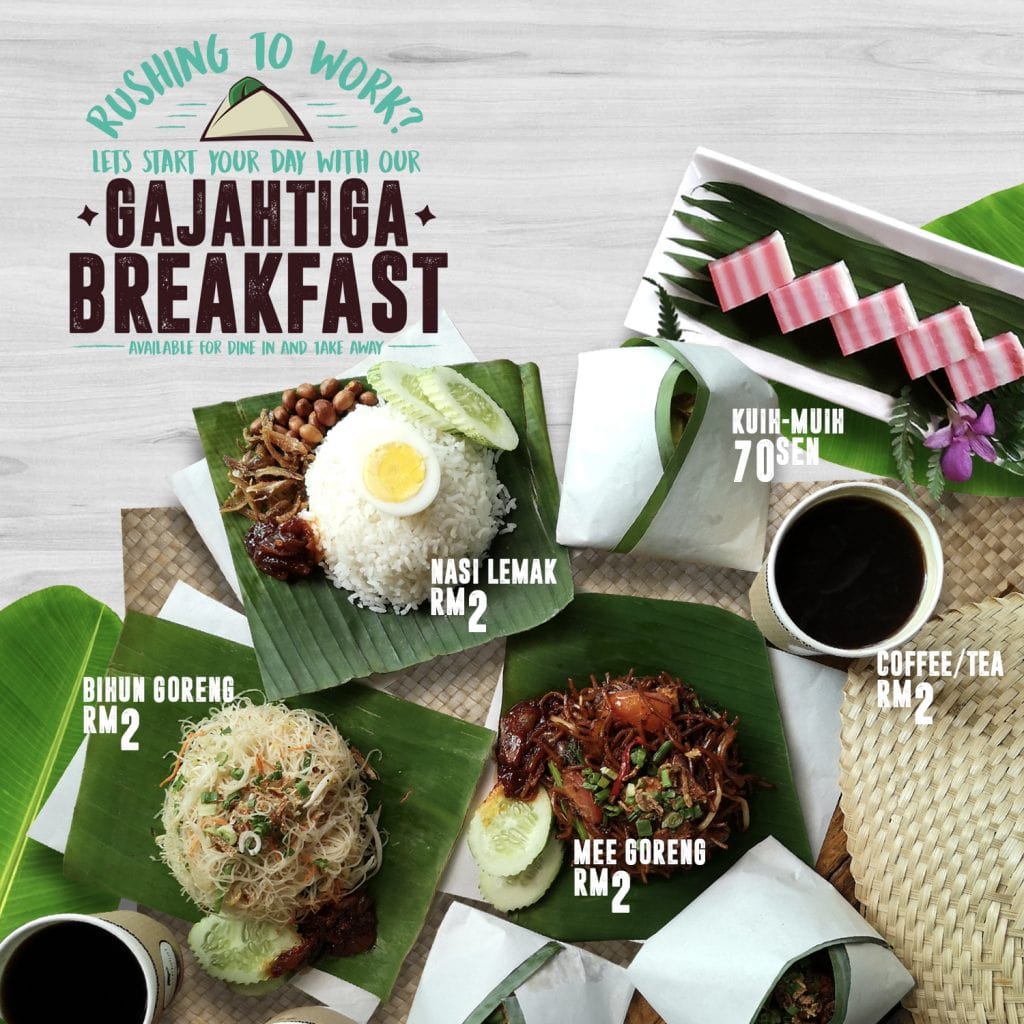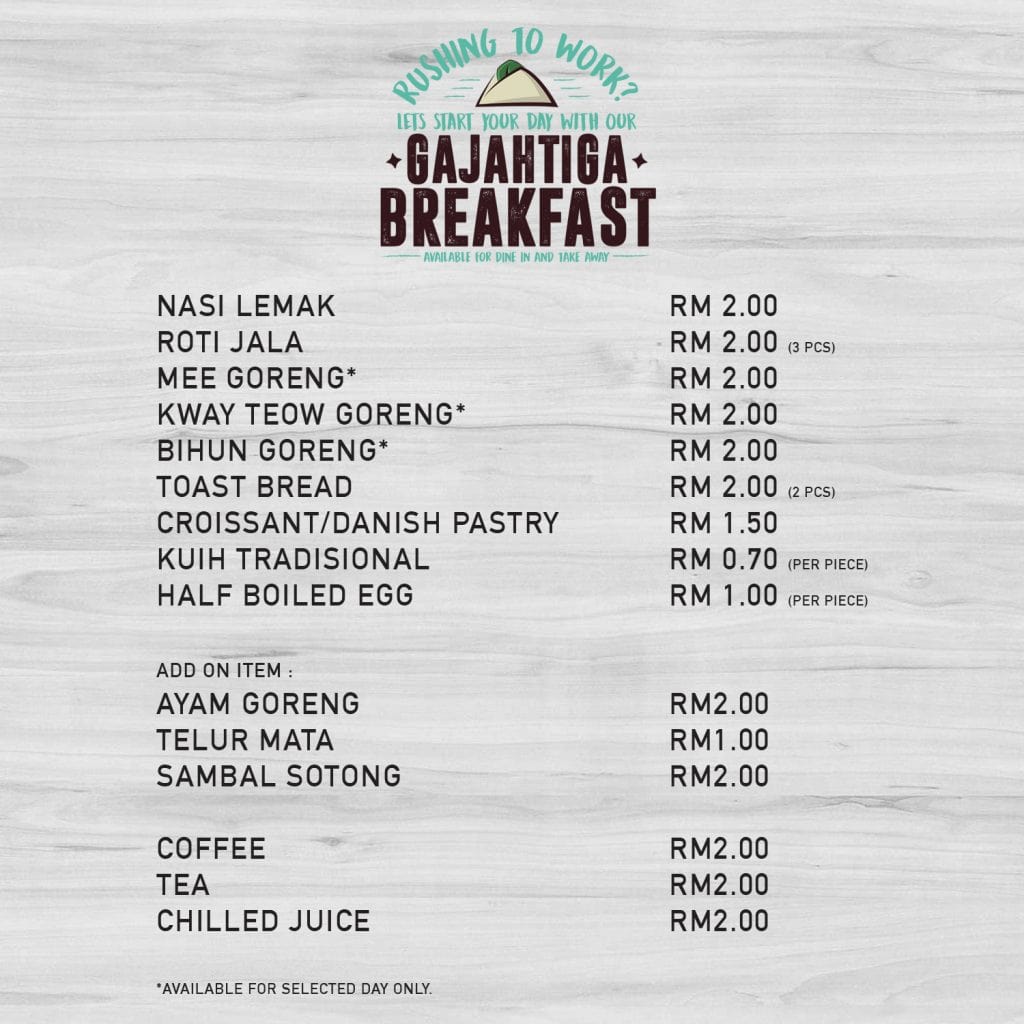 ---
Cozy and Comfortable
A perfect spot for a function, birthday party or family gathering.
Our seasoned team is well-experienced in hosting events of all kinds.
From corporate product launchings to your child's 1st Birthday Party, we will help you host a seamless and beautiful event from start to finish.
You can either choose from our event packages or tailor a custom event to fit your needs.
Contact us at +603 9201 2885 or +6012 322 6400 for more info.